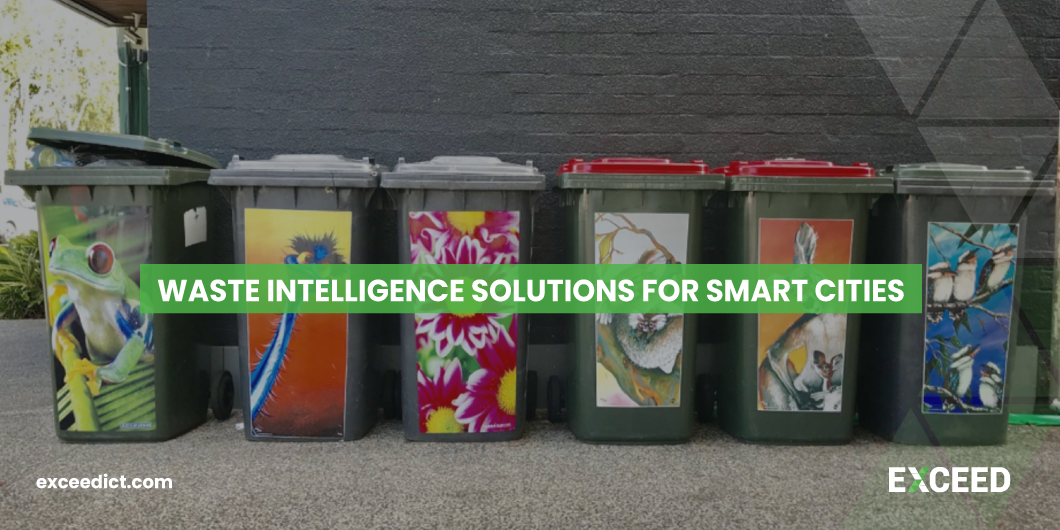 WIN-WIN for Councils and our planet. Waste Intelligence Solutions & IoT Waste Management Solutions for Smart Communities and Cities.
Through the use of innovative technology, councils and communities can make smarter decisions, become more efficient, save resources, and importantly, reduce their carbon footprint.
Our population is growing and our consumption is certainly not reducing, and the amount of waste being produced is huge and rapidly increasing. However, as Peter Drucker once said "you can't manage what you don't measure".
The way waste is managed can be drastically improved, and the solution is relatively simple.
At present, waste collection systems are largely outdated and result in the over servicing of public space bins i.e., collections that are unnecessary or the opposite, collections that are not frequent enough.
Over-servicing of public space smart bins has been proven to be as high as 81% of bins. Think about that for a moment…all that unnecessary cost of labour, fuel not to mention the carbon emissions resulting from vehicles on the road. This is because when routes are planned inefficiently, unnecessary traffic is created, and more fuel is used to complete the collections. Overall, this can contribute significantly (as much as 60%) to higher carbon emissions.
With the use of IoT solutions for waste management, these issues can be solved by creating a smarter efficient pathway for rubbish collection trucks. IoT sensor technology can be used to provide near-real-time bin levels, allowing councils to make smarter collection decisions using hard and fast data regarding when the emptying is actually needed.
The Matter Waste Intelligent Solution allows sensors to be installed into virtually any bin, for advanced waste management. Now together, councils, businesses, organisations, and communities can change the way we manage waste for ever.
Using real-time and verified data, Matters patented technology provides in-depth insights that help to increase efficiencies, reduce costs and change consumer behaviour. Our mission is to create more sustainable communities and cities by providing innovative waste management solutions that activate communities.
Below are the top three reasons for councils to invest into this technology:
#1 Sustainability
Route optimisation means vehicles are deployed in the most efficient manner, lowering the amount of time vehicles are on the road, reducing fuel used and most importantly minimising CO2 emissions. This allows smart communities and cities to reduce their overall carbon footprint.
Through route optimisation, the added benefit of garbage trucks spending less time on the road, is that traffic congestion is also decreased, leading further carbon savings not to mention happier drivers and citizens due to spending less time stuck in traffic!
#2 Improving efficiency and Cost-saving
Smart communities and cities are all about using resources efficiently. One of the key benefits of the advanced Matter Waste Intelligence Solutions includes the availability of near real-time data, allowing for informed decisions to be made quickly. This means that action can be taken before sending a truck out for an unnecessary collection or having an overflow of bins that are not due for a collection for days. Councils can remain highly responsive and challenge the current approach to waste management, breaking outdated set ways of inefficiency.
If unnecessary collections are eliminated, public spending on waste management can be reduced.
This frees up resources for councils to allocate to other initiatives.
#3 Can be extended beyond Public Space Bins and into the home
As communities are becoming more aware of the environmental issues – there is an increasing demand for more sustainable and environmentally friendly solutions,
Introducing Ripple.
Monitor and manage your emissions in the home. With recent high levels of general and food waste, our easy Ripple app promotes a move towards tracking and changing waste behaviours.
Our Ripple app and smart sensor software features:
User alerts showing bin fill levels and emission levels.
Notifications giving weather reports, bin warnings and collection details.
Handy weekly waste tips.
Backend data analytics showing bin volumes, waste trends and emission reductions.
Great perks like status badges, earned rewards and app personalisation.
If you happen to be in Sydney this week, make sure you attend the Australian Waste and Recycling Expo, where Matter and Exceed ICT will be in attendance talking rubbish 😊. Visit https://awre.com.au/ at stand G23 in the Innovation Zone.
Whether you're exploring new possibilities or needing support for Smart Waste Management Solutions in Australia, we're here to help.
Call us on 1300 832 639
We also provide Expense Management, Telecoms Expense Management, Device Deployment, Mobile Fleet management, Telstra enterprise Mobility, Telstra mobility Managed Services.
Improve Your Business Core values, Business Consulting, App Development, Cyber Security, Cryptoloc, Data & IP, Telstra Expense Management and many more Services. Check our Services.
Find Us (Exceed ICT) on Google map.