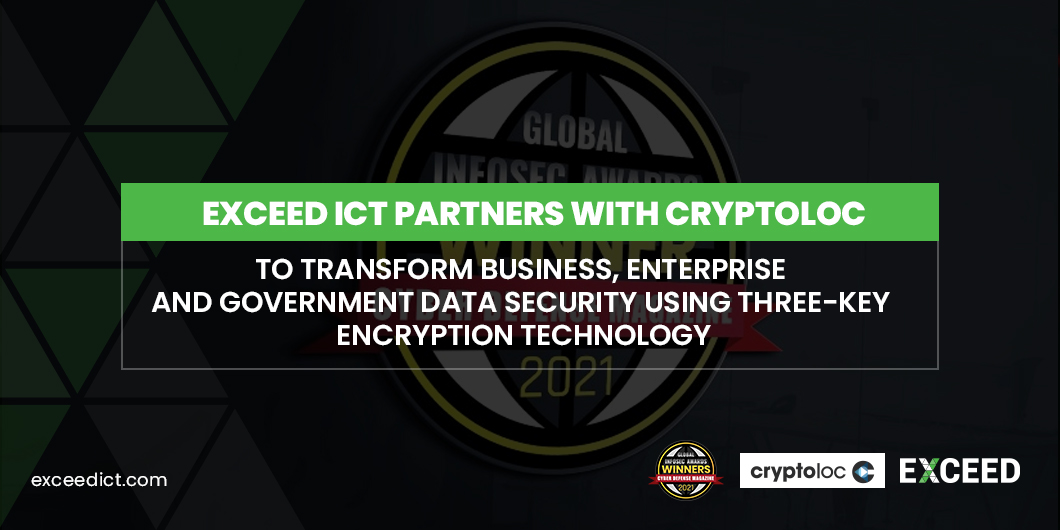 Cybersecurity Platform Signs New Tech Sales Channel Innovators To Provide Advanced Data Security To Business, Enterprise and Government sectors.

Exceed ICT today announced that Cryptoloc Three-Key Encryption will form the basis of all future data-protection and secure file transfer, and their Solution offering will be extended to all Australian Business, Enterprise and Government customers via their newly formed reseller agreement.
Every 39 seconds there is a new attack somewhere on the web and this will continue to increase as time progresses. 
Prevention is the best cure. When users send files, packets are sent and can be easily obtained using the right systems. When users sign, store, send or perform any other function they expect their data will land at the right place safely. End-point protection is critical, but it is not enough.
We send around 300 billion emails every single day. Email represents the single biggest exposure point that we all face. There are hundreds of ways to penetrate a business; most are via user emails. Cryptoloc utilises an Award-winning, Patented encryption technology and secure file transfer system to eliminate most of the vulnerability that email and server systems face.
"We were looking for a solution that specifically focuses on data security, such as encryption and auditing, to ensure that in the event of a cyber-attack, the hackers can't get access to the data. After careful review and consideration, the choice for us was clear, enter Cryptoloc, a patented three key encryption technology. Cryptoloc took out three highly coveted awards at the RSA Conference 2021 including Editor's Choice in Email Security and Management, Next-Gen in Encryption, as well as Cutting Edge in Self-protecting Data Security.
Sadly, the prevalence of cyber-attacks, like ransomware and malware is such that for business owners and individuals it's no longer a matter of if they will be attacked, but when. Now organisations need to ensure they don't become a victim when an attack occurs.
When we first got our hands on the system to use internally for storing and sharing our data with the ISO-certified Electronic Data Management System (EDMS) cloud storage solution – it made clear sense. Cryptoloc let's you work collaboratively and interact with internal and external customers in a safe and secure environment; and track every change, and access any version of your documents at any time. With Cryptoloc, only you own your data, the way it should be.
Working in and supporting the Business, Enterprise, and Government sectors for the past 20+ years, we know there is a very clear need for industry to adopt a best practice approach to secure data storage and file transfer, which is why Exceed ICT is excited and proud to be partnering with Cryptoloc to take this exceptional and very relevant Solution to market." Said Luke Wadeson, Exceed ICT Director and Head of Managed Services & Solutions.
Exceed ICT, Headquartered in Brisbane, is an ICT Innovator, Integrator and Service Delivery Partner that delivers successful outcomes for the Business, Enterprise and Government customers.
Exceed ICT offerings include Professional Services and Managed Services across their core Solutions, Data & IP , Mobility, Cyber Security and IoT.
We also provide Expense Management, Telecoms Expense Management, Device Deployment, Mobile Fleet management, Telstra enterprise Mobility, Telstra mobility Managed Services.
Improve Your Business Core values, Business Consulting, App Development, Cyber Security, Cryptoloc, Data & IP, Telstra Expense Management and many more Services. Check our Services.
Exceed ICT's end-to-end workflow optimisation and automation platform, called Aspect, has been created from the ground-up for organisations' demanding data driven decision making, Aspect's business intelligence capabilities, including asset and inventory management, commercial and budgetary insights, are underpinned by a unique persona based, hierarchical structure.
Exceed ICT integrates best practices security into all of its solutions. For more information on how Exceed ICT delivers for its clients across the government, enterprise and business markets, visit www.exceedict.com
Follow Exceed ICT on Twitter and LinkedIn.
Find Us (Exceed ICT) on Google map.
We look forwarding to introducing Cryptoloc to our valued clients, and should any Businesses or Organisations wish to discuss how Cryptoloc can help eliminate any potential disruptions to business operations, please book an appointment via our website https://exceedict.com/solution/cyber-security/ or call on 1300 832 639.